Our congregation loves children! This enthusiasm for the younger members of our church family is reflected through our Sunday School program. Our children begin Sunday morning by joining in worship with the whole congregation. Our children sing, and pray, and pass the peace. After the children's sermon, our children, grades K-8, go downstairs with their teachers for Sunday School.
Our Sunday School uses an ecumenical (interdenominational) curriculum that is based on the same Biblical texts that will be used in worship that week. The curriculum incorporates crafts and creative activities. Our congregation enthusiastically shares responsibility for teaching, giving our children an opportunity to develop relationships with many wonderfully caring adults.
On the first Sunday of the month, we do not offer Sunday School, but encourage our children to remain in the worship service. This also, is a part of our curriculum. It is our hope that our children come to feel at home in worship, that all ages will have an opportunity to worship and celebrate the Lord's Supper together. We want our children to become adults who have experienced the life-giving possibilities of worshiping with a church community and they will continue to seek out this opportunity in their adult lives.
All children, members, visitors, and friends, are invited to join us!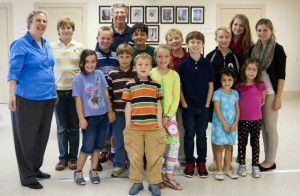 A new group of Confirmation Classes started on February 11, 2018. The confirmands will be received into the church on Pentecost Sunday, May 20th.