Cornwall Presbyterian Church
We are a vibrant faith community located in historic Cornwall-On-Hudson, New York. We warmly welcome all people to our congregation and look forward to welcoming you!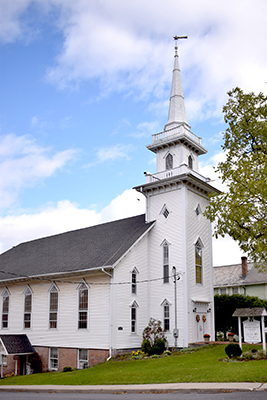 ---
Sunday, July 5th Service
Sunday, June 28th Service
Prior services can be found on our YouTube channel
During this period of social distancing, we will have worship services available here on our website and on our Facebook page. Please contact us if you would like to be added to our email list for access to Zoom worship or virtual groups.
---
Imagining-Church
Visit our new blog at www.imagining-church.org. This is a place for us to gather resources related both to doing church in a new way during our period of shelter-in-place, and to navigate our next steps when New York Forward makes it possible to reopen our building. Our current context is an opportunity for creativity and growth, both now and in our future. Come and visit and share your ideas. Blog contributions are welcome.
---
New Book Group: "Holy Disunity" by Layton E. Williams
We will be beginning a new book group on Tuesdays at 10:00 a.m. over Zoom. We will begin on Tuesday, July 7th. Please email pastor@cornwallpresbyterian.org, if you need any help connecting or finding a book.
 
Description from Westminster John Knox Press: These days, there's no dirtier word than "divisive," especially in religious and political circles. Claiming a controversial opinion, talking about our differences, even sharing our doubts can be seen as threatening to the goal of unity. But what if unity shouldn't be our goal? In Holy Disunity: How What Separates Us Can Save Us, Layton E. Williams proposes that our primary calling as humans is not to create unity but rather to seek authentic relationship with God, ourselves, one another, and the world around us. And that means actively engaging those with whom we disagree. Our religious, political, social, and cultural differences can create doubt and tension, but disunity also provides surprising gifts of perspective and grace. By analyzing conflict and rifts in both modern culture and Scripture, Williams explores how our disagreements and differences—our disunity—can ultimately redeem us.
---
Ken Sampson will also be leading a book discussion group on "Paul: A Biography" by N. T. Wright that began Wednesday, July 1 at 1:00 p.m. via Zoom. In this new biography, we're invited to see the humanity behind Paul the theologian. Best-selling author N.T. Wright portrays the Apostle Paul from within the context of the Jewish beliefs and hopes he embraced prior to his conversion. In establishing Christian community amongst isolated bodies of believers in the ancient world, Paul speaks timely words to us in this pandemic period of social distancing.

Ken Sampson has a couple of paperback copies of the book. Also, most of the assigned pages for this session are on-line (Amazon). Please join us for this opportunity to focus on significant issues of God's Church, and to be healed, challenged and changed in the process. For the Zoom information, please contact admin@cornwallpresbyterian.org