Operation Cookie Deployment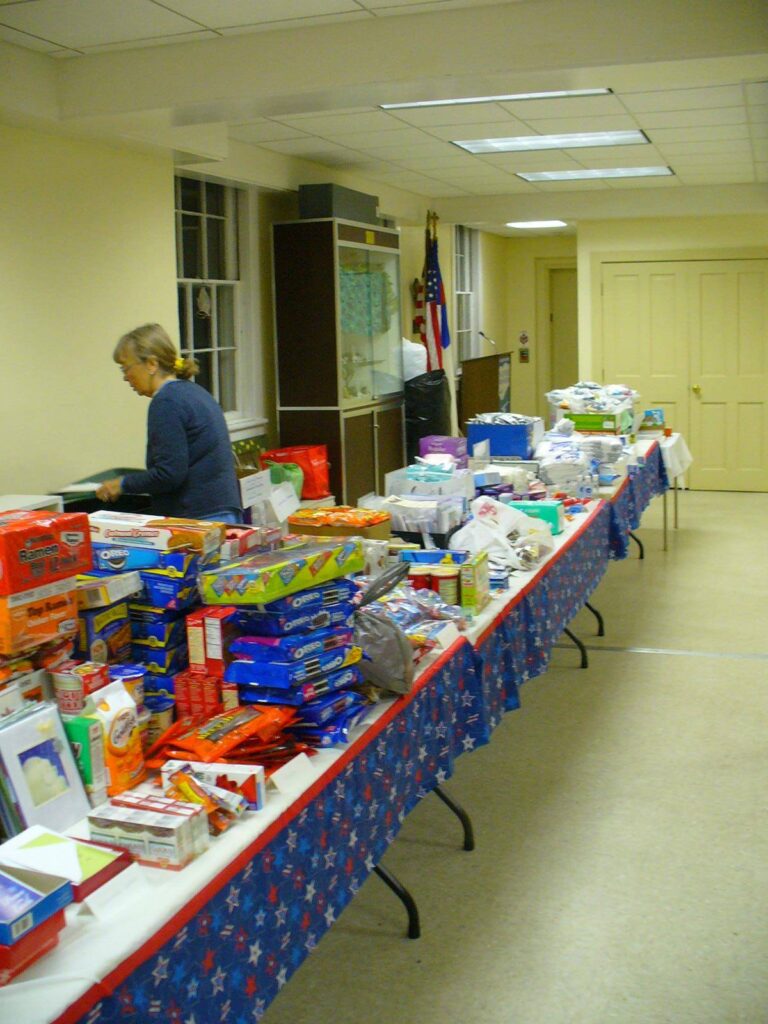 Every year our church collects personal care items, packaged food products, knit caps, and baked goods that are then boxed and shipped to service men and women deployed around the world an abroad. Both church and community volunteers get together to pack and address all the boxes. A letter is included in each box from Chaplain Ken Sampson. All the boxes are sent to the New Windsor post office for shipping.
In 2020 Operation Cookie Deployment packed 60 boxes on Saturday, February 8, 2020 with help from local students and other members of the community.
We would like to thank the Key Club of CCHS along with students of NYMA, Storm King School and the Boy Scouts and Girl Scouts. We would also like to thank the Cornwall library and Sportsplex and their patrons who donated items and all the hat knitters and cookie makers!
Keep the below in mind when we set the date for the next time!
Operation Cookie Deployment project, we gather donations and then mail boxes of homemade cookies, purchased snacks, small containers of personal care products, and hats to our service men and women who are stationed here in the United States and around the world. In February 2020, we were able to send 60 boxes!
When we start up for next time, we always need current APO addresses for our soldiers. The earlier we receive the addresses the better.
And whenever you are baking cookies, please bake a few extra batches and then freeze them, either at home or in the freezer in the Couser Room (carefully marked "OCD").
Last, but far from least, please start collecting small, travel-sized (3 oz) personal hygiene products, the hotel/sample sizes are less desirable. A list of items needed is below.
Donations to support our mailing costs are also appreciated, as boxes cost an average of about $20 to mail. Donations in the plate are fine, please make sure they are marked OCD on the envelope or on the check memo line. To donate on-line, please click on the Give Now button. On the donation form select "mission" and put OCD in the note line on the next screen.
Please keep in your hearts and prayers the brave men and women who are far away from home, often on dangerous duty, protecting us all. That is the best way to support Operation Cookie Deployment. Thank you!!
---
Items Frequently requested:
Personal Care Items/3 oz Travel Size or personal size/No Aerosols:
dental care products
foot spray (Tinacton, etc.)
hair care products
hand sanitizers/soap/bath gel
lip balm (SPF 15)
manicure/pedicure products
sun block (SPF 45)
disposable razors
baby wipes/disinfectant
Q Tips
eye drops (Visine, etc.)
tampons
Avon Skin-So-Soft
Food Items: Nothing with pork, alcohol, or aerosol.
candy/hard candy (NO chocolate)
canned meats/tuna in pouch
cookies (homemade or store bought) –Oreos a favorite
beef jerky/Slim Jims
gum
nuts /seeds, dried fruit, trail mix
powdered beverage mixes (sugar free or regular)
Ramen noodles
snacks/crackers;
granola/energy bars/protein bars
individual packets of cereal/soup
single servings instant coffee
tea bags
hot sauce/seasoning salts
Misc. Items:
greeting cards
envelopes/notepaper/pens
white athletic socks
decks of playing cards
books of word puzzles
re-sealable plastic freezer bags
Empty 10.5 oz. coffee cans to pack cookies
Needed especially: white athletic socks, tampons, knit caps- helmet liners (pattern available from Warmth For Warriors website)